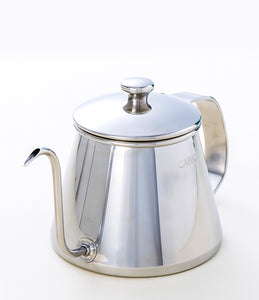 TSUBAME PRO / TSUBAME WOOD
- Stainless Coffee Pot
Thinnest spout diameter 6.0mm

The 6.0mm, it is the surprising thinness of spout diameter.
Not just drop-pouring, you can pour water to your target point easily.

IH enabled pot

The pot can be heated both on an open flame and on an IH heater.

Stainless body

The Tsubame Pro is hand-made one by one in Tsubame city, Niigata where is famous as high-quality stainless manufacturing. Its stainless body is highly resistant to corrosion.
A thermometer can be put in from the hole on the lid.
About Tsubame-city
Tsubame-city is famous as a city of manufacturing in Japan. Its metal processing was started in the beginning of Edo-period and its high-quality craftmanship has been inherited for long time. The hardware produced in Tsubame city has got a high reputation all over the world.