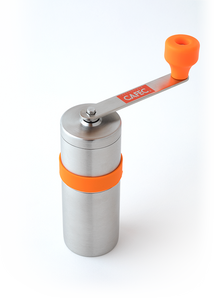 Coffee beans are FRESH food

- Blissful flavor by freshly grinded coffee beans
Freshness of roasted beans is most important for good flavor of coffee. Even if you have good equipment, you cannot brew good of coffee without fresh coffee beans.
Because once coffee beans are grinded, its deterioration (oxidation) is progressed rapidly, so it is best timing to grind beans just before brewing.
The "Tsubame Mill" has a ceramic blade to make an original flavor of coffee not to be impaired. Grind roasted fresh coffee beans just for your cup before every brewing and hand-drip a cup of coffee with affection… You will be wrapped up in rich aroma of fresh ground coffee and will enjoy great taste of coffee in a very relaxing time. Staying in such a rich time is also a pleasure brought by coffee.
Ceramic blade

Thanks to the ceramic blade, coffee powder has no smell of metal, and more, friction heat can be reduced by hand-grinding.

Stainless body

Simple and stylish!No unpleasant smell of metal, and it is stain- and scratch-resistant.

Because it is compact, you can take it out and use it for the outdoors too.

Disassemblable and Washable

The ceramic blade is disassemblable and washable. You can keep it clean everytime.